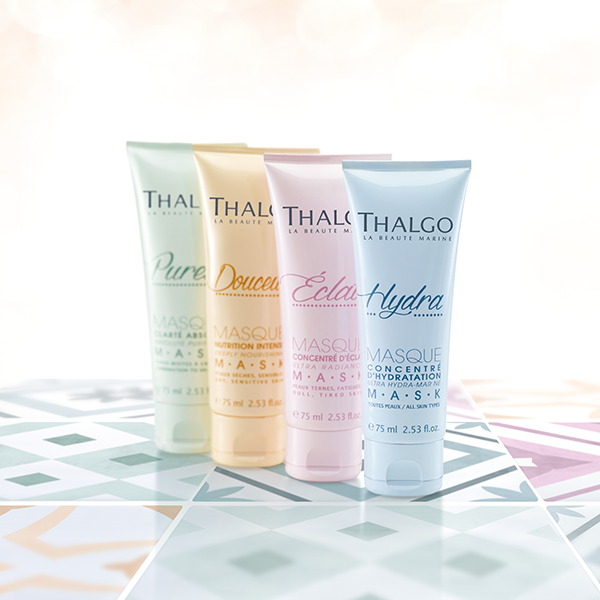 Perfectly Beautiful Skin!
Your favourite facial masks in new packaging, price and 25 ml extra free product. They are suitable for all skin types, for all ages and can be applied alone or in combination.
Ultra Hydra Marine Mask
SOS mask for dehydrated skin, rich in hyaluronic acid offers absolute hydration in just 10 minutes.
Statistical measurements shown that the skin is:
up to 70.7% more hydration measured 30 minutes after application
up to 58.2% more hydration measured 30 hours after application
Absolute Purifying Mask
Purifying mask for combination / oily skin.
It contains 2 millenary algae Fucus Spiralis / Tetraselmis Chui that cleanse the skin and Witch Hazel Extract that tightens pores and eliminates sebum and impurities.
Spectacular results from the first application
9 in 10 people:
Visible clear skin
Instant matte skin
Tightened pores
After 28 days of use
9 in 10 people:
Reduce shine
Fewer defects (pimples)
Ultra Radiance Mask
Instant radiance-booster mask that awakens dull complexions. It contains the oily concentrate of Sichuan pepper with a relaxing "Botox-like" activity, offering instant "de-wrinkling" of the skin surface. It also contains vitamin P which helps microcirculation. The face is more refreshed and radiant than ever and wrinkles are less visible.
Deeply Nourishing Mask
The Deeply Nourishing Mask repairs and relieves feelings of discomfort in only 10 minutes! Borage oil, source of GLA omega-6 fatty acids, micro-encapsulated to infuse lipids, drop by drop, into the heart of the skin.
Intense nutrition
Reduced feeling of discomfort
Regenerating and softening benefits

Copyright © 2014 Aromca S.A