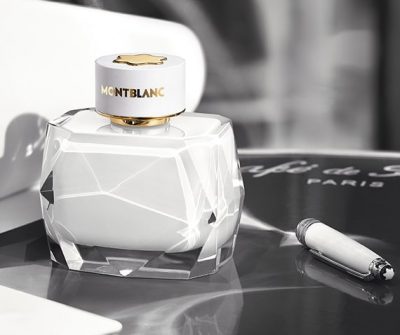 "Leave your signature"
Some women are impossible to forget because they are like no others. Their remarkable personality and the strength of their convictions leave a lasting impression to anyone who comes across them. In a world in which excess is going out of style, their magnetic simplicity and innate elegance makes them stand out, makes them irresistible. Montblanc dedicates its new olfactory chapter to these women.
This unparalleled story has been named Signature in a nod to the Maison's iconic writing instruments. The Signature woman leaves a unique echo in the minds of those around her, because she has chosen to be the author of her own life. This is an exclusive original version, it goes without saying… And the trail of her perfume matches her personality: a truly exceptional character.
A feminine fragrance full of contrasts
Created by the talented perfumers Guillaume Flavigny and Natalie Gracia-Cetto, Signature intermingles the sensuality of an enveloping vanilla with a contrasting "clean" facet of musks, creating an addictive, chic, deliciously feminine trail. "With this appeal and elegance, I wanted to infuse more light, more breath and transparency", explains Natalie Gracia-Cetto. This floral-oriental-musky fragrance first seduces with its luminous clarity. The crystal-clear whiteness of musks in the base notes encounters a breath of floral peony, zested by sparkling clementine in the top notes. On the skin, the juice quickly reveals a more enigmatic and captivating facet. A voluptuous oriental vanilla rises majestically, escorted by an enchanting magnolia and sunny ylang-ylang middle note. Finally, an amber accord snuggled inside creamy benzoin provides the perfume's soft and sensual side.
Signature exudes perfect femininity, an alliance of purity and mystery, of revelations and secrets.
The bottle, a natural choice.
Perfectly echoing this precious perfume, the opalescent bottle is a tribute to the iconic inkwell, part of Montblanc's heritage. Designed by the Maison's own Mark Eisen, the white lacquering on the inside brings out its shine, without showing how much juice is in the bottle. Its faceted appearance changes with the light and time of day. The golden details, borrowed from the iconic "Meisterstück" writing instrument, underline the elegance of the object. Just like the pen cap, the bottle is crowned with the star-shaped emblem. This star of gold showcases the bottle's femininity. To begin writing the day's new chapter, simply open the bottle.
The light grey Saffiano motif that has been used on Montblanc creations since 1926, is also printed on the fragrance's elegant packaging. The name of the perfume appears handwritten in calligraphy, and recalls the power of words, emphasising that just like people, each writing style is unique.
The Montblanc initials appear at the bottom of the box and exude timeless elegance.
Unparalleled communication
Captured through the lens of Cédric Bihr, a photographer with a degree in neuroscience who specialises in celebrity portraits, this is the first time a writer has been featured in a campaign. On the terrace at the Café de Flore, the legendary brasserie frequented by existentialists, she is trying to find inspiration for her next novel, jotting down her ideas in a notebook with a white Meisterstück. Looking into the distance, she lets her thoughts wander to the future, perhaps noticing a detail in the gait of a passer-by, a snippet of a conversation or a new idea that she will use in her writing. Her next story is already being written…
To embody this woman of character, the charismatic French essayist Diane Ducret was a natural choice. This powerful woman overcame her injuries and made them into strengths. She recovered from a serious horse-riding accident by writing, using it as therapy to reconnect with the world. Women are her main sources of inspiration and her most respected bestsellers, such as Femmes de Dictateur and La Chair Interdite, describe women through their complexity and strength of character.
"I like that we are using a writer to craft a fragrance. I think there's something quite poetic about it, I really like the idea, she says. "Fragrance plays a huge role in my life. As an accessory, obviously, as well as a work of art, not to mention a source of inspiration. When we write, we have a kind of curiosity, an openness to the world and senses constantly on the alert. I think smell is such a powerful sense, linked to faith of the heart, intelligence, skin… Ultimately, it connects all the other human perceptions." And when asked to define a scent, she answers, "It's a bit like a book. It's like being an alchemist of elements, pulling together different scents, words that seem disparate, words of anger, love, the warm and the cold, and making something harmonious. Stronger and surprising scents can sometimes overwhelm us. In my mind, there are many similarities between fragrance and books."

Copyright © 2014 Aromca S.A