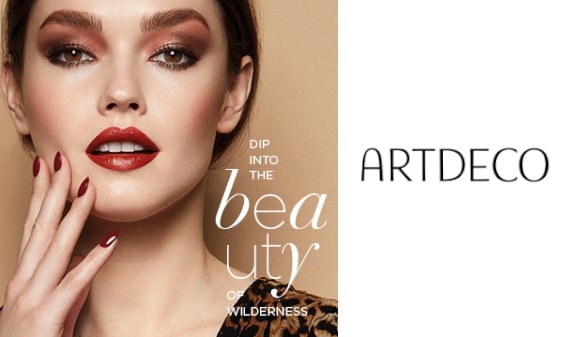 THE INSPIRATION
The new ARTDECO fall/winter collection Dip into the beauty of wilderness pays homage to nature's wild, untamed beauty. Mother Earth is formidable, profound, and so diverse. In addition to her romantic side, we also love her rugged features. Wild animals and the bright green of the jungle are found today not only in nature, but also on international catwalks, conquered by monkeys, leopards, and opulent plants.
THE PRODUCTS
Eyeshadows
The silky Eyeshadows, with their eye-catching color intensity and excellent hold, can be easily and gently applied. The new pearl shades "pearly dune" N°32A, a light gold, "pearly savannah" N°35, a dark brown, "pearly wildlife" N°41A, a sand shade, and "pearly lilac illusion" N°292, a dark lilac shade, shimmer delicately.
Eyeshadow Base
The color-neutral Eyeshadow Base prevents eyeshadow settling in the crease. The eyeshadows are easier to apply, and their durability is enhanced. The base soothes the delicate skin of the eyelid with bisabolol, and protects it with vitamin E.
Mineral Eye Styler
An expressive eye makeup can be achieved with the retractable Mineral Eye Styler in "mineral fading dust" N°93, a dark eggplant. Its innovative, ergonomic design and rubber grip allows the inner and outer eye contours to be accurately traced. The integrated sharpener at the end of the pencil ensures a precise refill shape. The paraben-free liner pencil is particularly suitable for sensitive eyes.
Kajal Liner
An exact, super-fine contour is made possible by the fragrance-free Kajal Liner by ARTDECO. It can be easily and smoothly applied. The liner can also be used on the inner lash line (water line). The two new shades "hazelnut" N°20, a warm brown, and "bare nature" N°24, a softly shimmering, natural brown shade, provide an autumnal look.
Clear Lash & Brow Gel
Paraben and fragrance-free Clear Lash & Brow Gel gives a transparent lash makeup and gives protection to sensitive lashes. It allows you to care for your eyebrows while styling them and fixing their shape. It gives both eyelashes and eyebrows a natural brilliance. Panthenol strengthens, restructures and protects each hair. The tapered brush shape means that you can reach even the smallest eyelashes and perfectly model your eyebrows. The flat side of the brush delivers an optimal amount of gel, which can then be easily distributed on eyelashes or eyebrows.
Skin compatibility dermatologically approved.
Perfect Color Lipstick
The Perfect Color Lipstick fascinates with rich color, optimal coverage, and plumping effect, and combines the latest technology with effective care. The included Maxi Lip stimulates the formation of collagen and glycosaminoglycan. This formula hydrates the lips for a firmer, smoother and more defined appearance. The combination of waxes and an innovative gel base creates a silky, weightless texture that leaves an even film of color on the lips. Moisturizing ingredients help to protect the lips. Amino acid derivatives and mango butter have moisturizing properties that makes the lips soft and smooth. Water lily (nymphaea alba) and moon orchid (phalaenopsis amabilis) flower extracts nourish and hydrate. Corn oil nourishes the skin, keeping it smooth.
Four new shades create a perfect look for fall: "heat wave" N°808, a dark red, "bonfire" N°850, a classic, bright red, "burnt sienna" N°855, a chocolate brown, and "desert sand" N°859, a light nude.
The Perfect Color Lipstick sprays a delicate vanilla scent and is free from lanolin, parabens, silicone and talc.
Skin compatibility dermatologically approved.
Mineral Lip Styler
You can create the perfect outline for your lips using the fragrance-free Mineral Lip Styler. Candelilla cera wax creates a gentle texture. Hyaluronic acid moisturizes the soft part of your lips. The lip pencil, which contains no mineral oils or parabens, cuts an impressive figure since the makeup is so pleasant to wear. The rubber grip ensures a secure hold, while the integrated sharpener allows for a precise refill shape. The tip can be retracted into the mechanism with ease. The new shade "mineral sienna" N°15A is a delicate pink nude.
Skin compatibility dermatologically approved.
Blush Couture
The Blush Couture "beauty of wilderness" is a perfect combination of two shades. The shades, which match every skin tone, can be applied individually or blended. A touch of pearl adds a sophisticated finish. The texture captivates with pure colors, is long-lasting and gives your complexion an elegant, fresh look. The "Beauty meets Art" jungle design packaging and the relief on the powder transform the blusher into a visual highlight.
The blusher is free of parabens and perfumes.

Copyright © 2014 Aromca S.A